FIGURE 1: KNOX MARTIN'S GEOMETRY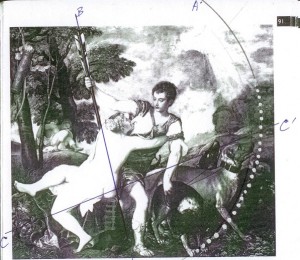 FIGURE 2: TITIAN'S GEOMETRY

FIGURE 3: DEGAS' GEOMETRY

FIGURE 4: HOKUSAI'S GEOMETRY

FIGURE 5: SOTATSU'S GEOMETRY
FIGURE 6: BEN LAU'S GEOMETRY
This essay is the actual continuation of the previous one,
"THE WAH-WAH LAND OF DR. WILLIAM FRIED, PH.D, FIPA."
**********************************************************
Invest the blind with a semblance of authority, and they will pluck the eyes of all the seeing, … .Give a slave his way but for a day, and he will turn the world into a world of slaves.
THE BOOK OF MIRDAD
**********************************************************************
In paragraph 8, Dr. Bill says:
"Martin traces in the works of the great masters whom he sees as his forebears, principles of visual organization that may be termed a poetic calculus. His own word, ""geometry, " is less accurate, since it fails to account for the movement deliberately initiated by the configurations of shape, line, and color … ."
Dr. Bill is essentially telling his readers that Knox is inaccurate by making the claim that geometry is in the construct of his own compositions in SHE. Dr. Bill further denies Master Knox's claim of geometrical application through the insertion of an incomprehensible term, " poetic calculus", without even clarifying what that is.
If it is believed that through discrediting Master Knox by pointing to this alleged inaccuracy Dr. Bill may then disguise his ignorance, thereby raising himself one rung above the stature of Knox Martin, – William Fried, Ph.D. FIPA is making a very grave mistake indeed!
Seeing is believing!
One picture can speak louder than a thousand words!
In the attachments above, the geometry of the masters from the LINEAGE shows you exactly why Master Knox Martin is right, and Dr. Bill's "poetic calculus" is just plain gibberish conjecture about art!
It must be understood that geometry is extremely crucial in a real composition, which may be defined as the interactions of Yin and Yang being fully revealed by a bona-fide artistic or poetic genius. Therein is implied a Supreme Relationship being reflected in a creation of the first order. Furthermore, it is only through such a geometrical relationship from which a sublime universal order can be generated that the poetic may be fully revealed, thereby resonating in our collective soul as Beauty through that revelation! As it appeals to the collective soul, in our collective understanding may we uphold the creative act as universal. The first understanding in a new order of creation or its first recognition must be initiated by those whose eyes are open to that beauty, –i.e. the seers or artistic geniuses, with whom Dr. Bill identifies himself by implication through his critique on SHE.
Now let's make this simple and basic reasoning: were Dr. Bill in truth a seer, wouldn't he have been able to indicate how Knox Martin actually may be situated in relation to his forebears from the LINEAGE? In other words, shouldn't Dr. Bill be able to point out the exact ranking of Master Knox Martin in relation to his forebears, or his contemporaries from the LINEAGE? Couldn't Dr. Bill further acknowledge the artistic contributions to posterity by the extremely inventive Knox Martin? This reasoning is quite valid because someone who claims to bear the standard through critiquing a master from the LINEAGE, namely, Knox Martin, certainly must hold himself accountable as a SEER of sort. Paragraphs 8, 9, 10 or beyond would have provided Dr. Bill his last chance to make that declaration by way of demonstrating to his readers such an unusual endowment, i.e. an implied clairvoyance in art, perhaps. Unfortunately, through his inability to do so, Dr. Bill has just shown us that he is totally blind to the greatness of Knox Martin!
Fortunately for Humanity though, an impostor has just been exposed and unmasked!
*********************************************************
Dr. Bill would have been a fine writer had he stayed away from a subject he knows next to nothing about. He would have been more respected had he confined himself to his writing on psychoanalysis.
Only when he makes travesty into art that he is caught red-handed!
FURTHER GEOMETRICAL APPLICATIONS BY BEN LAU, A.K.A. THE ALPHA SEER: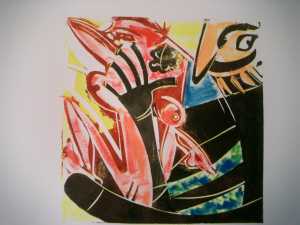 FIGURE A: SATYR SERIES 82542 BY BEN LAU, A.K.A. THE ALPHA SEER
FIGURE B: BLIND MAN'S BUFF BY BEN LAU, A.K.A. THE ALPHA SEER
FIGURE C: BLIND MAN'S BUFF 0869 BY BEN LAU, A.K.A. THE ALPHA SEER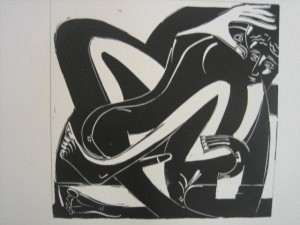 FIGURE D: GREAT YIN AND YANG, BY BEN LAU, A.K.A. THE ALPHA SEER
Dear readers: take a good look at the power of geometry in real compositions from Figure A to D.
Impostors of various stripes and colors: please do resist the deadly sin of Vanity and retreat from the limelight of non-art! It is time to sober up to the understanding of how geometry has shaped the compositions of the LINEAGE, as well as those of Figure A to D, and through their investment in geometry there is created a new, powerful, concrete, and everlasting metaphoric presence in the collective consciousness of mankind!
Average Rating:
5
out of
5
based on
196
user reviews.