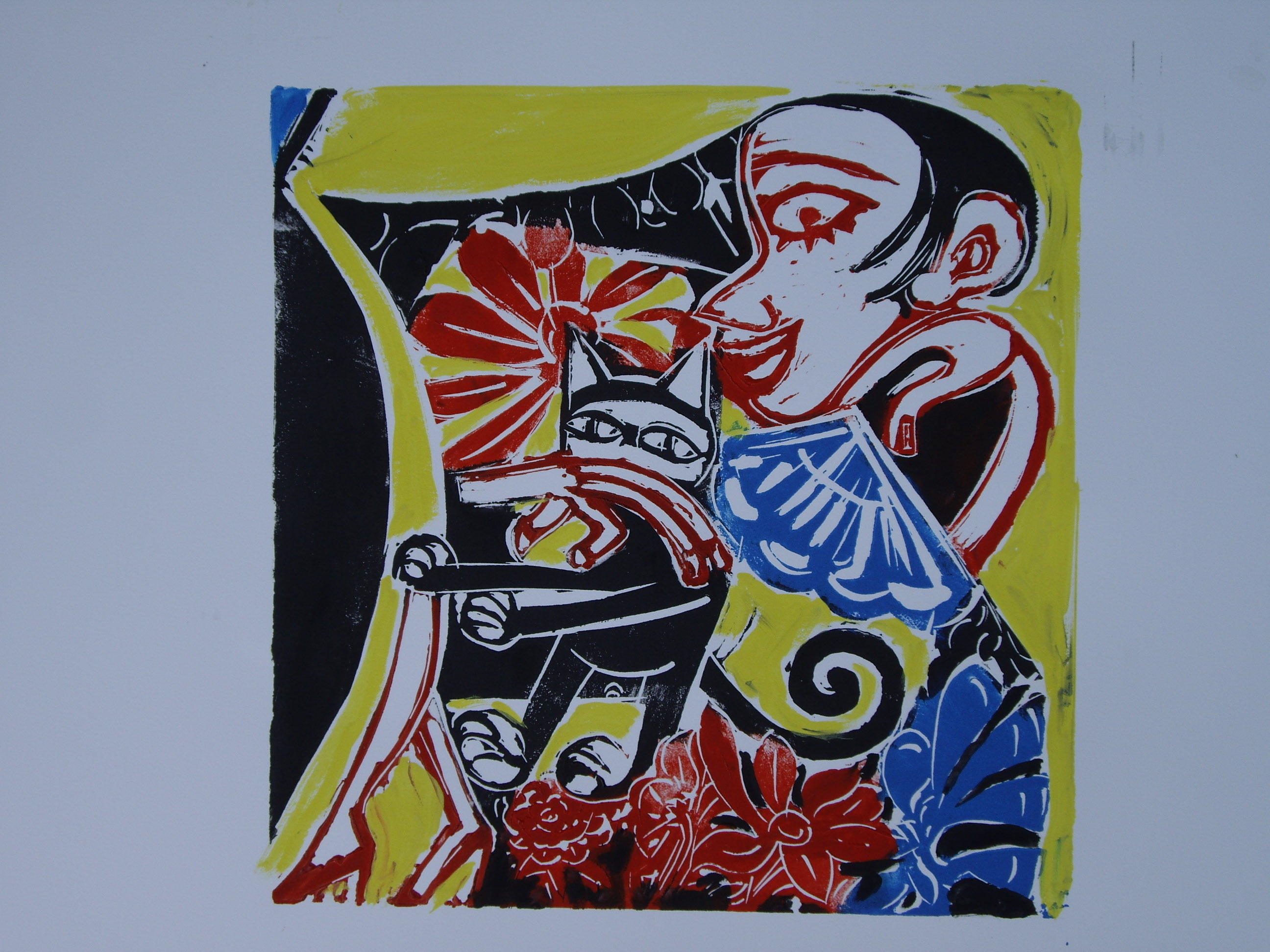 Figure: Woman With Cat 420 by the Alpha Seer
Despite the obstructionism of the hyena-like Right-wingers, Obama was able to perform, – and perform excellently he does!
The Alpha Seer has always been anti-killing, anti-hunting, – anti-gun even, –but in the case of Osama bin Ladin, – BANG, BANG is the only right thing to do!
And to take Osama out like a rat, … Ahh, – it would have been the Alpha Seer's ONLY approach too!
No trial, no fanfare, no circus, …
Just BANG, BANG!
Many cheers for Obama!
******************************
**********************************************************
Some time ago, the Alpha Seer had penned this:


WHY WOULD MILLIONS OF FOLKS GO SEE A SHOW SO DISMALLY DEVOID OF EVEN THE FAINTEST OF SUBSTANCE– LIKE THE ANDY WARHOL SHOW, WHEREIN NO MERIT IS EVER DETECTABLE, NO VALUE EVER REDEEMABLE, –WHERE NOT EVEN A FORMER GHOST OF ART IS PRESENT…?
That question, just as "Why Hitler had succeeded in killing so many Jews?" EQUALLY relevant, –always baffles the mind!
But this dialog must be kept valid, and the question constantly asked, so the mind may snap to attention, become vigilant, and become aware again!
The same can be said now by changing only a few words, i.e. "Hitler" substituted with "bin Laden" and "Jews" with "the innocents."
Everything goes back to the heart again, –after all, that is where the spiritual journey of a person first started, – and bin Laden, or Hitler is as much the same as you or me, my friend!
I see you are protesting again, son?
That is telling a lot: and it goes into saying why the mind needs to be enlightened! To be enlightened is to be free, – from all forms of conditioning.
To show that your protesting is in vain, please consider the following analysis:
Both Hitler or bin Laden carried the human genome, didn't they?  They had been like you or me then, – in a significant way! They had been killing the innocents by the thousands, in order to attain their respective dreams of desires, hadn't they? Would you not have been tempted to do the same had you found yourself in their situation, i.e. getting rid of all your enemies after political power was attained? So you are now saying you are different from those two, –that you are holier than they?
Let's hear what Osho said about folks who seek power.
Osho : "All beings are equal, –if there ever exist the inferior types, I can only think of the misers, or the politicians, –who love to gain in money or power!"
So in the final analysis, killing Osama cannot solve the problem, – as long as YOU remains the answer!
The real answer really lies in the heart, where the spiritual journey of a person first began. If you know how to meditate correctly, you can see it too: it is RELIGION you must kill! Nietzsche thought he had done God in, –BANG! But the poor chap had merely substituted the myth of the Superman for God, – just shoddy ideas, in other words, –without a nickel's worth. In fact, those ideas are extremely harmful to Humanity if they are allowed to propagate! And the irony is, Nietzsche eventually went insane himself. What Superman?
The Communists think they are killing religion, and the Academics think likewise! Unfortunately, it is just a quick mental shuffle in their mind: substituting one form of religion for another! Thinking leads to ideas, and ideas give birth to religions of all kinds, – and of course, Popes, Bishops, Ayatullahs, Lamas, Great Helmsman, Great leader, Beloved leader, High priests, Professors Emeritus, … of all stripes!
Not unlike Obama, Cezanne was fighting TYRANNY his entire life! i.e. the tyranny called ACADEMIA, …
Lao-tse, the Buddha, Titian, Mozart, Cezanne : the wise ones to behold to…!
Confucius, Manus, Mohammad, Nietzsche, Russell, Foucault : High Priests of Academia…!
To kill religion you need correct meditation, CHOICE-LESS AWARENESS is another name for this meditation!
To be in awareness without choice, one may be able to observe the randomness of human thoughts.
One is then able to observe their coming and going like clouds in a clear sky.
But the aware mind is a clear sky without clouds!
Correct meditation?
First relax, – then open up all your senses to be aware. If necessary, close your eyes, use the sense of hearing predominantly so there is no other unwarranted distractions! Some even suggest breathing in and out using one's diaphragm, but that is with the next level. That is what the Zen masters would do in order to achieve a one-pointed mind.
Correct meditation sounds simple enough, but it is pretty difficult for most.
It is a fact that neurotics have never learned how to relax. Most of you are neurotics. It is not a derogatory thing to say, but a fact.
Know your predicaments, and learn how to relax!
Going down 35W in 60 mph, one detects a strong grip on the wrist, for example, – because the traffic sometimes can make one nervous. To be able to detect that requires a high degree of awareness. One has no need to repel nervousness with an effort: it simply vanishes by itself once you are aware of it!
So awareness is the first step to relaxation.
And relaxation is the cure for all forms of neurosis.
Average Rating:
4.6
out of
5
based on
191
user reviews.