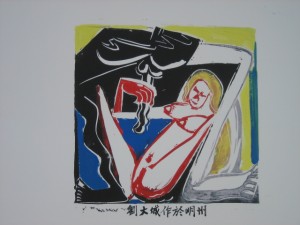 FIGURE 1: SATYR AND NYMPH SERIES
This painting has gone through many stages before it becomes what it is, a completed work, as shown in Figure 1.
Earlier versions show a composition without the proper Qi. It is obvious that the woman's hair must be presented in a lighter tone in order to gain the required Qi.
The Alpha Seer
leander hughes

to me

show details

9:32 PM (12 hours ago)
Concise! Sublime!

Thank you for another great lesson, Ben! (I always study them, even if I don't get a chance to respond.)

Love to you & family,

Lee
Professor Leander Hughes is currently teaching at Saitama University, Japan
Reply
thetaland8@aol.com

to me

show details

10:40 PM (11 hours ago)
Excellent! I see what you have done to complete it.
Master Olivia is the daughter of the great master, Knox Martin.
Average Rating:
4.4
out of
5
based on
164
user reviews.